News

---
Bleisure Travel - On the Rise
Who Said Business Can't Be Pleasure?
Bleisure Defined
'B-leisure' is a blend of the words 'business' and 'leisure' and refers to the activity of combining business travel with leisure time. According to Forbes, around 10% of all business trips are now designated 'bleisure trips', with 49% of business travellers choosing to extend trips to spend more time in a destination (Booking.com).
Whilst bleisure travel was previously most popular amongst employees aged 45-55, it is now a rising trend amongst Millennial travellers, who are adding extra days to their business trips in order to make the most of their time away. Travel Weekly found that 70% of 25-35 year olds desire to extend corporate trips for leisure reasons.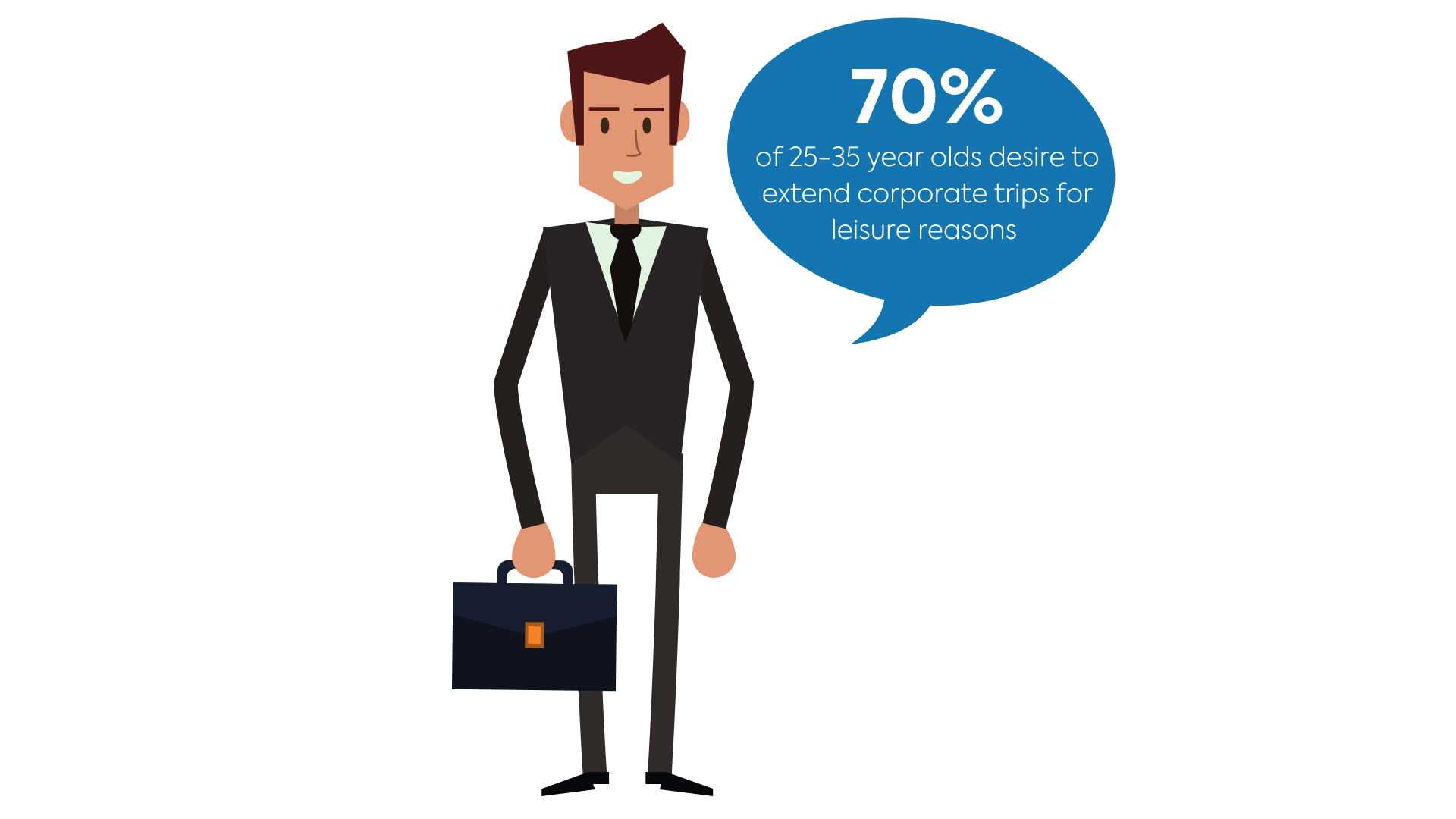 Why you should incorporate Bleisure into your Corporate Travel Policy
Forward thinking travel managers are now regularly incorporating bleisure into their company travel policies, increasing overall employee wellbeing with employees more willing to travel, as they often have to travel over weekends to accommodate business needs.
It offers greater family time and often allows family to accompany staff on business trips and this ultimately improves staff retention. In a technologically connected world, bleisure trips allow collaboration over time zones, where colleagues can work on the same idea miles apart without impacting on personal holidays and family time.
Taking a few days extra in a city you would only normally see whilst transferring from the Airport to your hotel, would give staff something to look forward to. Who knows, that leisure time can double up as new networking opportunities that otherwise may not have happened.
Arriving the day before work commences will allow staff to arrive fresh, uncrumpled, and ready to start work the next day on a great note. Bleisure trips can add great value to any business trip, increase productivity and can improve your return on investment (ROI) on each trip undertaken.
Selective Travel Management can help book any bleisure trip with a fully supported back up service. Trips booked will comply with your company travel policy and will be tracked separately so it will not affect your company travel data.
With increased flexibility, Selective Travel Management can suggest "altering travel dates to get better pricing, and to take advantage of the better price to extend their trip into a leisure trip at the same time". This will encourage a work-life balance for your employees with the potential economic benefits far outweighing the negative.
- After all, who said business can't be pleasure?
---
If you would like to have your Business Travel Simplified, then speak with a member of our team on (028) 9038 9007 or email hello@selective-travel.co.uk