News

---
Applications open soon for new Corporate Travel Academy
Selective Travel Management, in partnership with South Eastern Regional College and Jurys Inn Hotels are offering a brand new 6-week intensive Corporate Travel Academy which will equip candidates with the skills and qualifications necessary for a career in corporate tourism industry.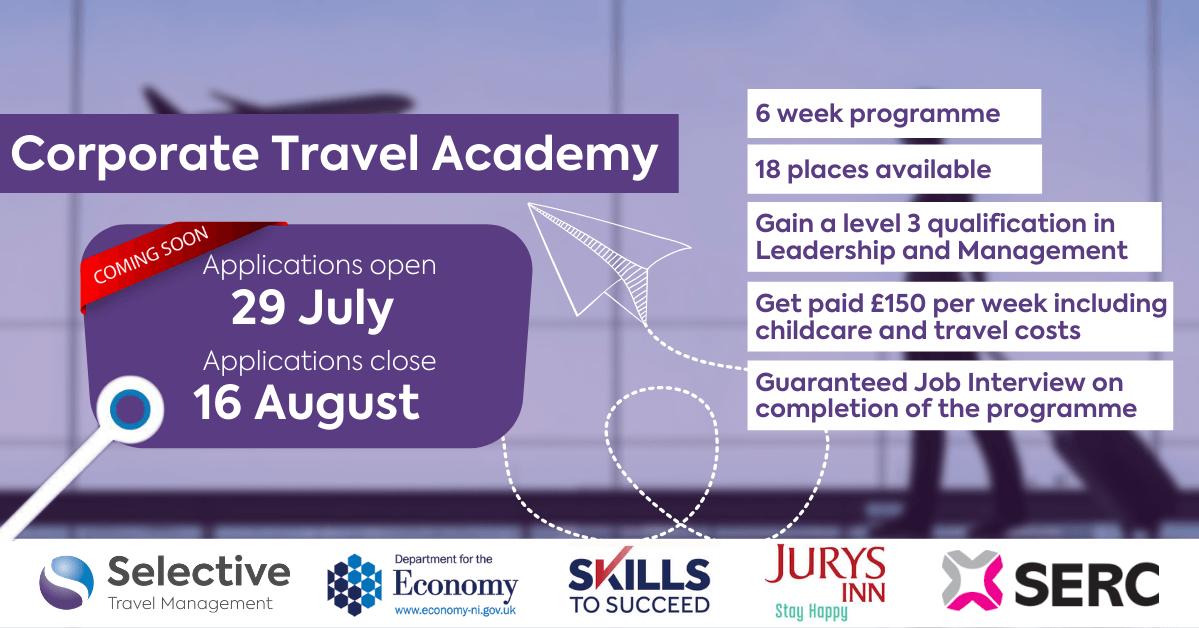 On successful completion of the training programme Selective Travel Management and Jurys Inn Hotels will be offering a guaranteed interview with the potential for participants to gain full time employment.
Elaine Flynn, SERC said, "This is a really exciting opportunity for anyone, any age, with a HND or higher qualification in any discipline, to train, qualify and fulfil a role in corporate tourism.
"Applications will be open from 29 July to 12 noon on Friday 16 August. This is a six-week intensive programme, commencing on 30 September to 8 November at our Lisburn Campus. Participants will complete a Level 3 qualification in leadership and management and a customer services qualification. In addition, they will have a guaranteed interview with Jurys Inn and Selective Travel Management at the end of the programme. Participants will be paid £150 a week along with childcare and travel costs."
Keith Graham, Managing Director Selective Travel Management commented, "Selective Travel Management is one of the UK's fastest growing independent travel management companies providing global business travel on behalf of a diverse portfolio of clients located here in Northern Ireland and across the UK.
"Our core strength lies in the calibre of our staff and our employee training investment. We are delighted to be in partnership with SERC and Jurys Inn Hotels offering a six-week intensive "Corporate Travel Academy".
Keith concluded, "I would like to take this opportunity to congratulate Elaine Flynn, SERC, for providing an innovative and exciting opportunity for participates to train, qualify and fulfil a role in corporate tourism. It provides an excellent platform for our company to support the training of Northern Ireland's next wave of Travel Industry Recruits.
You can apply for the Corporate Travel Academy from 29 July until 12 noon on Friday 16 August 2019.