News

---
5 Tips to Reduce Business Travel Costs
Selective Travel Management can help reduce your travel expenditure
Now that business travel is back at the top of the agenda, it is a good time to start thinking about costs and how you can cut down on travel expenditure. Overheads caused by the pandemic, rising fuel costs, higher wages, and increased demand means the cost of travel may be higher than it was pre-pandemic, and for that reason your business needs to prepare for a more expensive future in travel.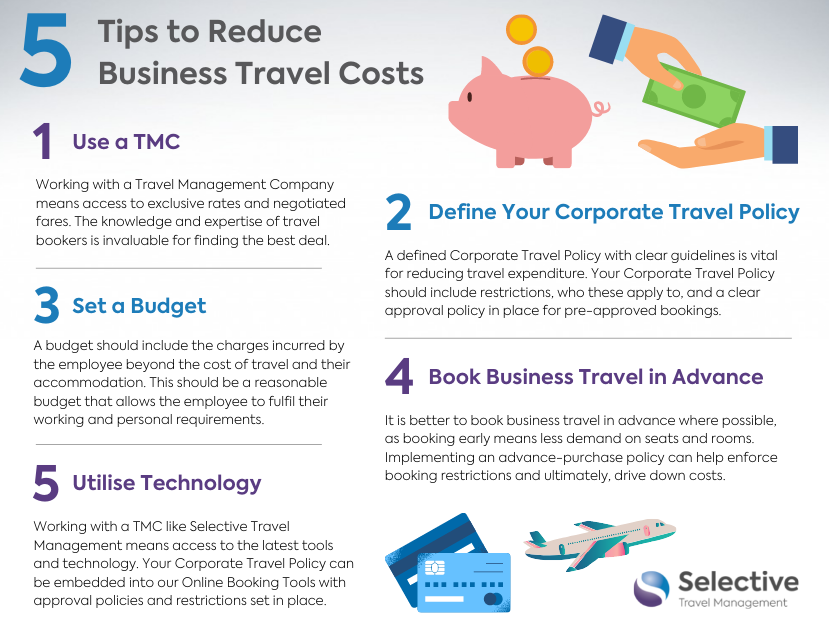 How to Cut Business Travel Costs:
#1 - Use a Travel Management Company
Your Account Manager will proactively monitor your bookings and create online and offline reports based on your travel spend. Through regular meetings, your Account Manager will provide recommendations on how you can make savings on future bookings and improve your corporate travel programme.
#2 – Define Your Corporate Travel Policy
Restrictions may include a threshold for fares and rates, a maximum star rating for hotels, a budget for amenities and other charges, and a requirement for standard rooms or economy seats. You should also define who these restrictions apply to, as depending on the level of seniority, business-class fares and more expensive hotel rooms may be required.
#3 - Set a Budget
This could include setting a meal allowance per day and booking the most cost-effective transport method for the business trip. Our team of travel experts can advise on the best method of transport and will book any airport transfers that may be required.
#4 - Book Business Travel in Advance
For air travel, last-minute bookings often result in paying higher prices for the same seat. Booking in advance means you are guaranteed the seat you prefer and having some flexibility on the dates you travel can also offer cost-savings. Whilst hotel prices can sometimes be cheaper closer to the date, booking in advance guarantees a room at the hotel you wish to stay.
#5 - Utilise Technology
Platforms like our Online Reporting Tool (Trends) allow you to view reports on your online, offline, and total spend. This data can be harnessed to help make better decisions on future travel and will allow you to monitor the level of spend year-on-year. Other platforms like our Online and Rail Booking Tool allow you to take your travel plans into your own hands.
---
If you would like to have your Business Travel Simplified, then speak with a member of our team on (028) 9038 9007 or email hello@selective-travel.co.uk